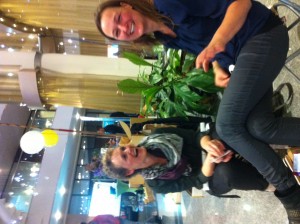 Innovatie is soms je hoofd een kwartslag draaien!
Samen met  collega Hans op de startersdag!
De mobiele verwonderwinkel verbindt startende ondernemers met basiswaarden… Natuurlijk gaat het om geld, maar je kan alleen *goed geld* verdienen als je werkt vanuit je talenten en passie's.
Twee tips van de mobiele verwonderwinkel:
Tip 1:
Winkel regelmatig in je eigenste ei-gén-schappen. Wat heb je al in huis? Wat houd je bezig? Wat wil je opruimen of parkeren? Ligt alles op plek? Observeer jezelf en sta regelmatig stil om kennis te maken wat belangrijk is voor jou. Bijhouden is behouden.
Tip 2:
Investeer in jezelf. Zorg dat je jezelf blijft ontwikkelen. Als zelfstandig ondernemer is het belangrijk om geïnspireerd te blijven en om de vonk in jezelf wakker te houden. Plezier in jezelf is wezenlijk! Kijk maar eens om je heen, de mensen die plezier hebben in hun werk hebben aantrekkingskracht.
BonusTip:
Pak NU papier en pen en schrijf vijf woorden op die belangrijk zijn in jouw onderneming.
Verbindt deze belangrijke woorden met elkaar in de vorm van een gedicht.
Illustreer het gedicht, of laat het illustreren!
Back on Track!
Wil jij winkelen in je eigenste ei-gén-schappen? Geef je dan op voor de dagtraining "IKbenleukwiebenjij", op 12 december in de Cultuurwerkplaats Zwolle. Je leert in negen stappen te komen tot persoonlijke Innovatie Kracht! Stuur een mailtje naar Yvette@verwonderwinkel.nl