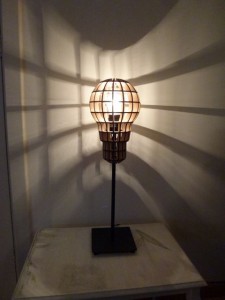 Verwonderen.
wonderen.
wond eren.
Vaak wordt verwondering als positief ervaren, gelukkig!
Verwondering is een groot goed, het nodigt uit tot stilstaan én tegelijkertijd nodigt het uit om in beweging te komen.
Verwondering is ook hard werken. Het is ook jouw wond eren. Durf je "het zeer" aan te gaan? Bij een workshop van de verwonderwinkel staat het "wond eren" niet centraal, maar het wordt wel aangestipt. Hoe zit dat bij jouw wonden? Leg je pijn graag bij een ander neer? Bewust of onbewust? In de vorm van zij, jullie, hen en zullie? Of durf je verantwoordelijkheid te nemen? Durf jij je eigen draagvlak te creëren?
Feit: stiltstaan bij verwondering helpt om je eigen waarden weer zichtbaar te krijgen.
Ga de uitdaging aan en nodig je team uit om een teambuilding van betekenis te doen! De team-training "ik ben leuk! wie ben jij?", vraag maar om een investering van € 40,- per persoon. exclusief btw en reiskosten. Inclusief unieke button:-)
Bovenstaande lamp als metafoor voor verwondering. Gemaakt door Pieter Bos Verlichting ligt wel in het straatje van verwondering, zonder duisternis geen licht en zonder licht geen duisternis? Een hokje is relatief, dat blijkt wel weer.
Deze UNIEKE lamp is te koop en vraagt een investering van € 99,99 … inclusief BTW!