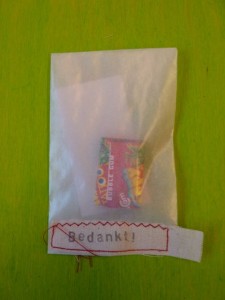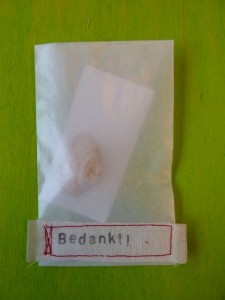 Door de nieuwjaarsborrel van durf te vragen kwam ik op een positieve manier in aanraking met twitter. Door twitter kreeg ik een vrijkaartje van Marketing Pioniers 2010!
Op 4 februari was het zover. De avond van tevoren heb ik een ordnertasje gemaakt. Ik wilde de marketingmensen graag vragen om een ingrediënt op te schrijven voor innovatie. Daarvoor was ik vroeg gekomen. Zodat ik kon starten met vragen als het nog niet zo druk was. Want als het druk is, is er meer druk op de ketel en moet wel leuk blijven natuurlijk. In mijn ordnertasje had ik overzicht. Een "tafeltje", pennen, mooie papierlabels en cadeautjes. Want iedereen die een ingrediënt leverde kreeg een cadeautje. En wil je dan een natuurlijk of cultuurlijk cadeautje?
Ik vind marketing leuk. Snel, interessant… en; waarom zijn er zo weinig vrouwen in de marketingwereld? Er was niet één vrouwelijke spreker… Ik wil best wat zeggen de volgende keer. Over bedankt en dankbaarheid. En over verwondering. En over lief zijn voor je medemens. Zet marketing in voor een inspirerende wereld, dat verkoopt vanzelf je product. Toch? Of is dat te naïef gedacht?